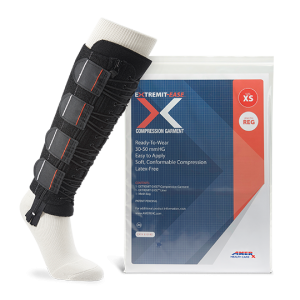 Medical Professionals Applaud New Approach to Compression
Clearwater, Fla. (May 19, 2017)—In April, attendees of the Midwest Podiatry Conference were treated to the official launch of AMERX Health Care's newest product, the EXTREMIT-EASE® Compression Garment—an innovative, easy-to-use approach to compression providing 30-50 mmHg of therapeutic compression.
The benefits of compression for healing venous leg ulcers and reducing recurrence rates have been well-documented in medical literature, but oftentimes lack of compliance hinders the healing process.  The unique features of EXTREMIT-EASE are expected to increase compression compliance, reduce edema in patients, and improve wound care outcomes.
A combination of a zipper and bungee cords with large tabs makes application and adjustment of the garment simple for patients, even those with dexterity issues.  The design of EXTREMIT-EASE allows for easy deactivation of the garment when patients want to relax in a reclined position, and its lightweight, air-permeable, latex-free fabric gives users hours of comfortable wear with less sweat, hot spots, and pistoning.
PDAC-approved EXTREMIT-EASE is available in regular and tall lengths for all sizes from extra small to extra-large, and FREE shipping and handling is available for all prescriptions.
Wound care professionals interested in discovering where compression meets compliance with EXTREMIT-EASE™, can contact their AMERX Health Care representative at 800-448-9599 or visit www.amerxhc.com/extremit-ease for more information.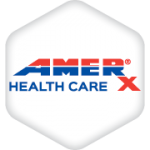 Founded in 1993 by John C. Anderson, AMERX Health Care Corporation is dedicated to providing superior wound and skin care products that deliver positive outcomes, increase patient compliance, and reduce treatment costs. Long-known for the top-rated AMERIGEL® line of topical wound and skin care products featuring Oakin® (oak extract), AMERX Health Care has expanded our offerings throughout the years. We now offer a comprehensive suite of wound care products including HELIX3® Bioactive Collagen, AMERX® Kits & Dressings, and the innovative EXTREMIT-EASE® Compression Garment.