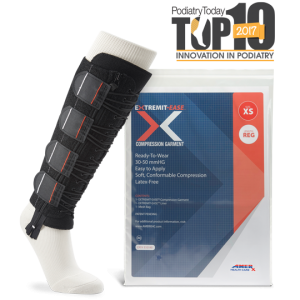 Clearwater, Fla. (July 13, 2017)—The new EXTREMIT-EASE® Compression Garment by AMERX Health Care has been named as one of this year's Top 10 Innovations in Podiatry Today—a leading industry publication.
Among the reasons for inclusion in the industry's most notable advancements is the garment's unique combination of a zipper and bungee cords with large tabs, allowing patients to easily and independently apply and adjust the garment. The ease of application and adjustment is expected to increase compliance rates and help reduce the recurrence rates of venous leg ulcers.
"EXTREMIT-EASE is a 'game changer'," said Dr. Jeff Lehrman, DPM, FASPS, and Fellow of the American Academy of Podiatric Practice Management (AAPPM). "It provides a huge advantage over traditional compression garments."
Introduced to the market in April 2017, EXTREMIT-EASE offers 30-50 mmHg of therapeutic compression. The lightweight, air-permeable, latex-free fabric found in the EXTREMIT-EASE Compression Garment provides hours of comfortable wear with less sweat, hot spots, and pistoning. EXTREMIT-EASE is PDAC-approved and available in regular and tall lengths for all sizes from extra small to extra-large.
Wound care professionals interested in learning more about the EXTREMIT-EASE Compression Garment can contact AMERX Health Care at 800-448-9599 or visit www.amerxhc.com/extremit-ease.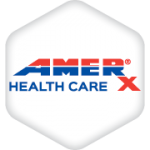 Founded in 1993 by John C. Anderson, AMERX Health Care Corporation is dedicated to providing superior wound and skin care products that deliver positive outcomes, increase patient compliance, and reduce treatment costs. Long-known for the top-rated AMERIGEL® line of topical wound and skin care products featuring Oakin® (oak extract), AMERX Health Care has expanded our offerings throughout the years. We now offer a comprehensive suite of wound care products including HELIX3® Bioactive Collagen, AMERX® Kits & Dressings, and the innovative EXTREMIT-EASE® Compression Garment.