What are the appropriate HCPCS codes for surgical dressings?
AMERX Health Care
2022-01-21T12:48:02-05:00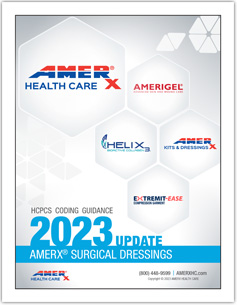 Surgical Dressings have been assigned specific HCPCS codes starting with the letter "A".  For Example, A6545 – Gradient Compression Wrap.  AMERX Surgical Dressings have unique assigned codes that can be found on their specific product page.  A full list of assigned codes can also be found at: www.dmePDAC.com
For a full list of HCPCS Codes assigned to AMERX Surgical Dressings, download the latest copy of AMERX Health Care's HCPCS Coding Guidance today!