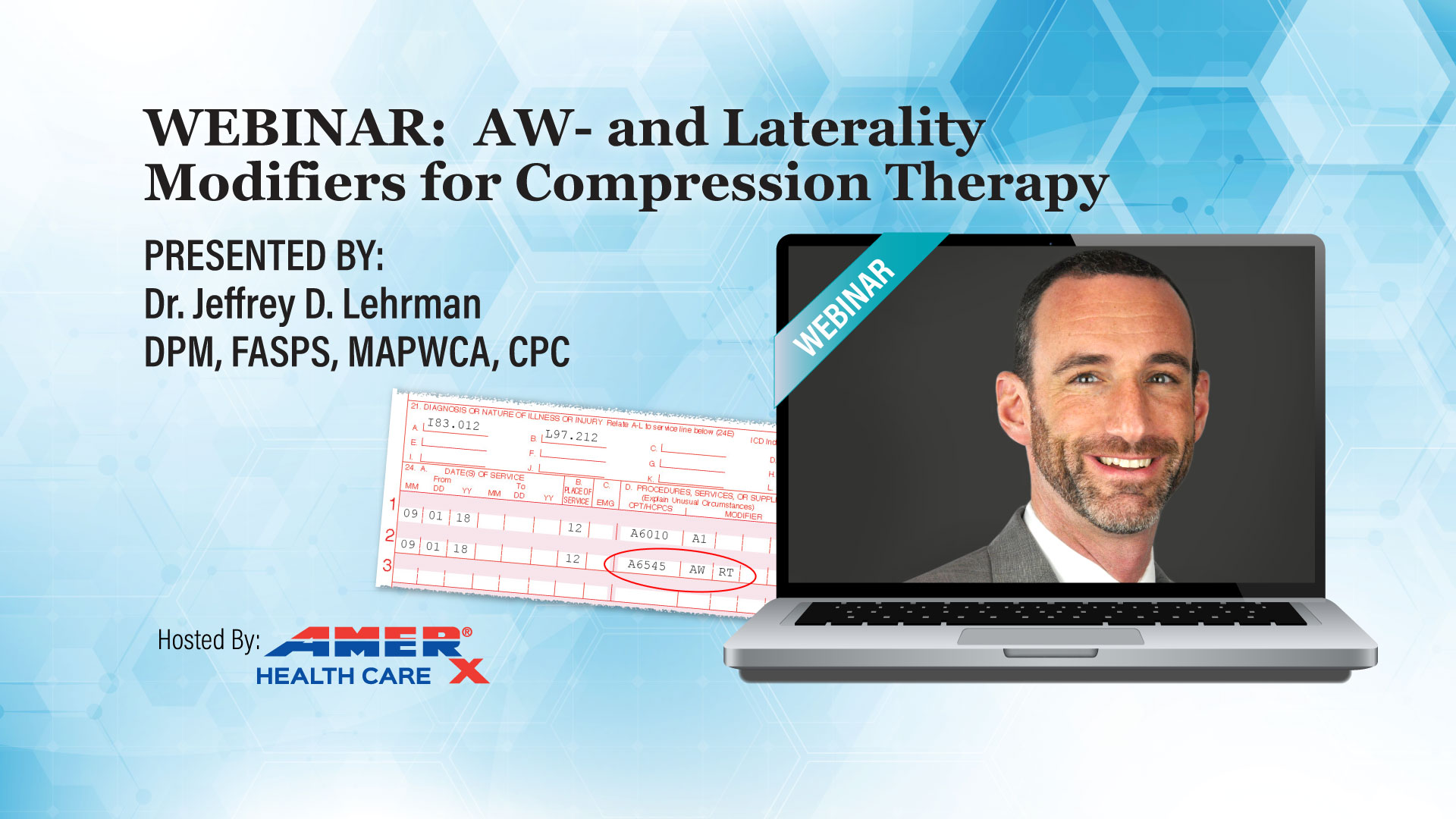 Date
Nov 19 2020
Expired!
Webinar: AW-and Laterality Modifiers for Compression Therapy
Compression is an essential component of both healing and preventing venous leg ulcers, but challenges can arise when submitting paperwork for reimbursement.  Are you properly including AW- and laterality modifiers when billing for compression garments?  Dr. Jeffrey Lehrman will guide you through the proper way to code for compression in this informative lunch-and-learn webinar!
At the end of Dr. Lehrman's presentation stay for a Question & Answer session where he will answer your dispensing and coding questions.
What You Will Learn:
How dispensing compression garments from your office can benefit your patients.
How to code for wounds requiring compression therapy.
When to use an AW- modifier and how to append it with a laterality modifier.
Hourly Schedule
About Our Presenter
Dr. Jeffrey D. Lehrman
Dr. Lehrman is in private practice in Fort Collins, CO and operates Lehrman Consulting, LLC. He is a Diplomate of the American Board of Foot and Ankle Surgery, Fellow of the American Society of Podiatric Surgeons, and is recognized as a "Master" by the American Professional Wound Care Association. He is a Fellow of the American Academy of Podiatric Practice Management and an Expert Panelist on Codingline. In his role as a Consultant to the APMA Health Policy and Practice Department, Dr. Lehrman serves as an advisor to the APMA Coding Committee and the APMA MACRA Task Force. Dr. Lehrman sits on the board of directors of both the American Professional Wound Care Association and the American Society of Podiatric Surgeons. He is also on the editorial advisory board of the journal WOUNDS.